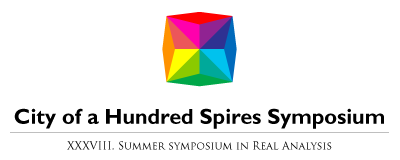 RAEX - Summer Symposium in Real Analysis, 2014

Photogallery




Here you will find a selection of photographs taken during the conference. I tried to pick the best photos with the accent of having at least two pictures of every lecturer during his talk.

The pictures are downscaled to reduce the amount of data you have to download while browsing the gallery. If you want some photographs in full resolution, please send me an email with filenames of the photographs. Filenames are located above the picture in a "slide" mode (one bigger picture per page).

This gallery was made with an application that is free for non-commercial use.

To enter the photogallery click the group photo below.





Maintained by Stanislav Olivík | Last modified: July 22, 2014