RAEX - Summer Symposium in Real Analysis, 2014
Conference Venue
Faculty of Civil Engineering, Czech Technical University in Prague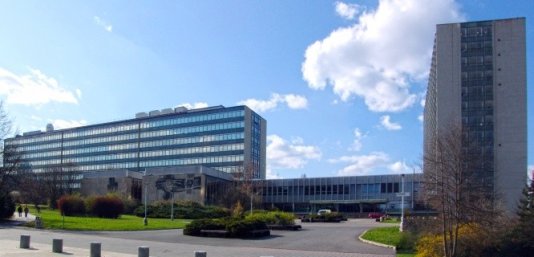 Address: Thákurova 7, Praha-Dejvice
Webpage: http://www.fsv.cvut.cz/
The Faculty of Civil Engineering building is located north-west of Vítězné náměstí and about 5-6 minute walk from Dejvická subway station, the terminus of Line A; see the symbol M in a green square on the map.
Line A connects several subway stations situated in the very heart of historic Prague such as Malostranská (in Lesser Town, a 3 minute ride from Dejvická station), Staroměstská (Old Town, 5 minutes), or Můstek (Wenceslas Square, 7 minutes). Tram no. 20 (Evropská street) connects the area with Lesser Town.
Vítězné náměstí is linked with Prague Airport by bus no. 119 with the terminus at Evropská street. The ride from Prague Airport to Dejvická station takes 20 minutes.
Those who prefer the beauty of nature can explore Šárka Natural Monument, which is easily accessible by tram, tram terminus Divoká Šárka. The ride from Dejvická station to Divoká Šárka takes 15 minutes by tram.
Public transport connections can be found at the portal of the Prague Public Transport Company.
The map below shows how to get to the Conference Venue from Hotel DAP. You will need to go through the underpass that leads to the Dejvická subway station to cross the Evropská street. The subway station will be on your left side but you need to go right. When you leave the underpass, continue slightly left, through a bush. Then again slightly left and then straight till you arrive at the Faculty.